Episodes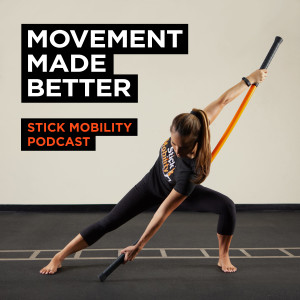 Monday Aug 17, 2020
Monday Aug 17, 2020
Dr. Shante Cofield a.k.a The Movement Maestro holds a Doctorate in Physical Therapy from NYU and is the creator of The Movement Maestro, a social-media based company that provides both online and in-person education for movement professionals.
A former Division I athlete, she is a Certified Strength and Conditioning Specialist, board-certified Orthopedic Clinical Specialist, and RockTape Lead Instructor. As a Selective Functional Movement Assessment provider, Shanté utilizes a movement-based approach that incorporates manual therapy, NeuroKinetic Therapy, corrective exercises, and techniques such as kinesiology taping and IASTM (instrument assisted soft tissue mobilization). Additionally, Shanté is a Functional Range Conditioning mobility specialist and holds a CrossFit Level I trainer certificate.
Since starting The Movement Maestro, Shante has amassed an Instagram following of 55,000+ which has led to international speaking opportunities including Dubai, New Zealand, and Australia. In April of 2018, she launched what would become an equally successful podcast, Maestro on the Mic, which has been downloaded over 250,000 times to date. Shante also provides both one-on-one and group coaching for movement professionals, with a focus on brand strategy and development and the ever-growing digital marketplace.
In This Episode We Discuss:
Who is Shante The Movement Maestro
The Future of PT?  Paradigm Shifts in Physical Therapy …@12:33
Shante's #1 Recommendation for those considering college to study Physical Therapy … @18:18
Business Mobility - Surviving and Thriving in the current climate: @25:39
The biggest hindrances to achieving social media goals for new online businesses (and how to overcome them)… @34:05
Should You Outsource Social Media at the beginning?… @42:01

- The 4 Pillars of Social Media
- Filtering messages and DM's

Physical Therapy in the Digital Space… @47:20
Intellectual Property: Thoughts on Posting Free Content on Social Media. …@49:09
Is Social Media a Place Where a Company or Brand Should Engage Social Issues? …@55:28
As a New Brand — How Much Should You Utilize Paid Promotions (Ads) on Social Media Outlets?… @1:01:44
Podcasting: Is the Market Over Saturated?  Is the Ceiling Still High?… @1:08
What is Financial Freedom?… @1:16:27
More from Dr. Shante at:
https://themovementmaestro.com